We are a Dutch company that specializes in all cleaning products focused on the hospitality industry and in particular for hotels and restaurants. I would like to show you at a glance just what we do and what we stand for. It will surprise you what we can achieve for you.
Did you know that 42% of the cleaning cost in a professional kitchen goes through the dishwasher.
By using the right cleaning products and dosing it correctly, ABC Products can generate great savings of up to 25 to 40%. This is possible because we have our own recipe and develop our products ourselves. This way we can meet the needs of any customer.
Use and convenience through Colors and Numbers
All our ABC Products are equipped with smart tags with a logical product model.
Thus, each user immediately recognizes the right products and can place them in the corresponding dispensers. Logically chosen colors make it even clearer for the user.

We developed our own smart dosaging devices
In addition to developing its own cleaning products has ABC Products also developed smart dosaging devices. You don't have to think anymore about the right amount of detergent per bucket. The exact dosage is automatically added to ensure you never use too much. You can save a lot of money by using the proper dosage.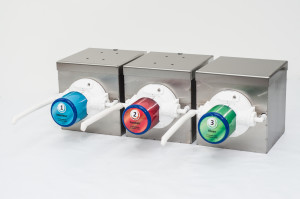 Environment and safety
We also developed smart packaging. Many of the products of ABC-Products are packaged in handy little plastic flexible bags with an easy to connect tube. These 'smart' bags are packed in turn into small, square cardboard boxes (Bag in Box). The handy easy to fix bags will get rid off open jerry cans and other open cannisters. So no more evaporating or spillage of cleaning products. Deflation is non existent. (Think of the convenience and security for your kitchen staff! Closed containers to prevent contact with skin, clothing or eyes.)
Take away your burden
We also offer stock control on location so you never run out again.
Short recap of all the benefits:
In house production and development.
Dosage mechanism to avoid spilling and over use.
Smart packaging, safe and environment friendly.
Easy colour and number coding.
Closed packaging to avoid contact.
Effective storage and transport.
Support with your kitchen hyiene plan.
Free dish washer usage measuring.
Stock control on location
Big savings.
ABC Products B.V
Jagerserf 47 Ermelo